When I was asked to do a product review on a couple of books from
Brighter Minds Media
, I was thrilled. I've always felt that reading to your child is one of the best gifts you could ever give them. In fact, I read to my daughters before they were even born!
Brighter Minds Media
is based in Columbus, Ohio and Toronto, Canada and have been publishing award winning items since 1998. Their fun and educational books and software are geared toward children ages 3 - 12.
The books that we received are:
Winter Spring Summer Fall - A Touch-and-Feel Seasons Book
This was the perfect book for Baby Bug since she's now in the put-everything-in-your-mouth stage. This sturdy and durable board book is filled with various touch-and-feel textures as well as bold colors which definitely helps to keep her attention.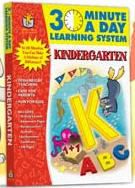 30 Minutes a Day Learning System - Kindergarten
This colorful, 396 page workbook is a great supplement to Girlie Girl's school work. It includes 50 30-minute study sections which were developed and assessed by actual teachers. The pages are perforated for easy removal and there's even a Certificate of Completion which your child can proudly display when they're done.
Girlie Girl loves it so much that she actually sits there for more than 30 minutes at a time and will even prefer to complete the assignments rather than watch television. Now that's a miracle in my book!