When someone mentions "
label printer
", I automatically think of those old school
Dymo
ones. Remember how you had to spell each word letter by letter and the machine would make a white indention on the different colored tapes? That was the "in" thing back then.
Well, imagine my surprise when I found out that the
RhinoPro

1000

Label Printer
that I was supposed to review is actually made by
Dymo
! They've sure come a long way.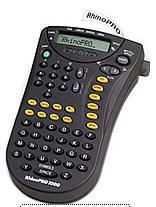 Right out of the box, I noticed the size. I like that it fits comfortably in my hand and the rubber buttons are easy to read. Everything is labeled for easy use. In fact, I didn't even need to read the instruction manual to figure out how to use it.
It came with one label cassette which contains a flexible nylon tape (11.5' x 1/2"). The printing on the tape is dark, bold, and easy to read - even with my less than perfect eye sight.
My first thought on how to best use this product was on my mess of computer cables. I don't even know which is which anymore! However, with kindergarten starting soon, Girlie Girl needs to drop off all her school supplies marked with her name. Yes, every single folder, tablet, pencil, and crayon. Did I mention that I need to drop it off in 2 days? Needless to say, I've been putting this task off for a while.
So, tonight I decided to put this
label printer
to the test. I
inputted
Girlie Girl's real name and number of copies I'd like to print. I hit the print button and voila - out came all these perfectly printed labels. What should have taken me an hour to accomplish now took about 15 minutes. Gotta love that!
The only drawback to this
label printer
is that it requires 6 AAA batteries. Not a big deal but I don't usually stock up on that size. Other than that, I have to say that I really like this product. It does exactly what it's supposed to do and best of all it's very user friendly.
Perfect for getting the kids ready for school!
For more information on this product and other labeling solutions, go to
CableOrganizer

.com
.