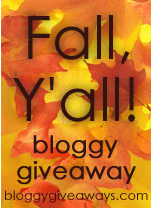 This giveaway is now closed. Thank you for your participation.
The winner is The Pitter Patter Boutique!
Congratulations!

As part of the Fall Y'all Giveaway, I am giving away a brand new copy of the newly released Power Rangers Operations Overdrive DVD.
Description: Five teenagers must locate and secure ancient relics with unbelievable power, while at the same time stop a demonic corporation who want the relics for their power.
Review: Most of you know that I have 2 girls. Therefore, I'm not very familiar with the Power Rangers. In fact, I didn't even know they came in different colors! However, my daughter loves them! During the movie, she would constantly explain who was who and what was going on. I have to say, that for a non-girlie movie, this one rocked!
To enter, just leave a comment below and mention who your child's favorite super hero is. That's it! A random winner will be selected on November 4th and contacted via email. PLEASE make sure you leave your email in case you win. The winner will have 3 days to reply or another winner will be selected.
I also have a few other events going on right now. Just check out the sidebar for more information. Please feel free to enter these as well.
Good luck!