This giveaway is now closed. Thank you for your participation.
The winner is Jess of Sassy Pants!
Congratulations!
Everybody gets excited about something. For me, it's a brand new totally clean calendar. I don't know if it's because it holds a lot of promises and future family events. Or maybe it's just the organizational freak in me. In either case, I was thrilled to have the opportunity to review Day Runners new line of planners - Family Matters.
Day Runner Family Matters
is a new line of color-coded organizational products that will be available for your 2008 needs. Their goal is to use color to help keep everyone organized and well-informed of family events and appointments. The first thing we did was assign a color to every member of the family. Once that was done, we could easily see what events pertained to each person.
Here are some of the great products we tried out: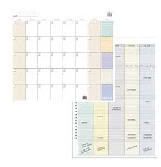 Undated Erasable Wall Planner - This double sided planner works two ways: First, on one side you have a month long grid. Across the top you would write in the names of family member according to color. Along the side are the days of the month from 1 to 31. This is a great way to see everything going on at a glance. Second, on the other side is your tradition calendar layout. This is a good place to jot down the basic information that you need to keep on top of things.
Monthly/Weekly Appointment Book - This 9" x 11" book is divided into months. Each section has a full monthly view. What I like about it is the lines in each block. I really like it when even the writings look neat and organized! The pages after this goes by weeks. The timeline runs along the side of the page and the colored columns (again, one for each family member) goes across the top. There's even a section on the bottom where you can write a To Do list.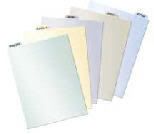 Activity Folders - Assign a colored folder to each family member to help keep track of all those loose papers. We used it to organize all the homework assignments that needed to be done.
Storage Cases - With all these folders, you're going to need someplace to put them. These color coordinated storage cases worked like a charm.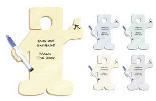 Erasable Door Reminders - This was by far my favorite item. I can't tell you how many times I've forgotten to take something with me when I leave the house. It always crosses my mind to leave myself a note on the door but I never take the time to do it. This handy, erasable door reminders does the trick. The best part is that there's a place to hold the write on/wipe off marker. Doesn't get much easier than this!
As you can see, I've always been a big fan of Day Runner products and this new Family Matters line definitely doesn't disappoint! Stop by their website to check out more of their organizational products. 2008 will be here before you know it!
Thanks to Day Runner, I'm giving away the 9" x 11" 2008 Weekly/Monthly Family Planner. To enter, just leave a comment below before

November 13th

saying how you keep organized. A random winner will be selected and contacted on November 14th.

As always, to earn extra entries just subscribe to my RSS feed or blog about this giveaway with a link back here. Please let me know if you're doing the extra credit so I can make sure you're entered properly.

PLEASE make sure you leave a way to contact you! This giveaway is open world-wide. Good luck!
Thank you to the
Parent Bloggers Network
for this great opportunity!