One of the very few things that I don't like about being a flight attendant is that I have to put my hair up for work. I've tried many different hair clips but not many can hold the massive amount of hair that I have.
So, when I was asked to out the
Ficcare Maximus Hair Clip
, I was a little skeptical. But then I figured it couldn't hurt to try.
I received the Chocolate colored clip which was a very nice shade of dark brown, not too plastic looking. The clip itself was very tight and secure. In face, it was so tight that I was afraid I would end up getting a headache. I didn't.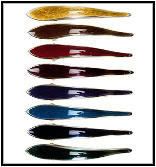 I basically just twisted my hair and clipped it up. Can you believe it stayed put for the entire 6 hour flight? I didn't have to mess with it even once!
How would you like to win a Ficcare Hair Clip (value $30) of your very own? To enter, just stop by
Head Games Blog
and leave a comment
on their site
about which clip is your favorite one. That's it! A random winner will be selected and notified. Good luck!
BTW, the giveaways says that the deadline to enter is November 23rd but I've been informed that they are extending it. Enter today!