I was so thrilled for this review opportunity since I've been thinking of getting one of these myself. It's the
Reynolds Handi-Vac System
.
Now why was I dying to get one? My husband does not cook. Ever. And so when I'm away for work, my poor girls are usually subjected to COSTCO Rotisserie Chicken or Zippy's Chili. Those are their two choices. I try to cook something before I leave but it's not always feasible. That's why I thought if I could make meals in advance when I do have the time, I could freeze it for future use.

This Handi-Vac System worked really well. I liked that it was small enough to fit into the drawer and yet powerful enough to get the job done. Basically, you fill the special bags with food, lay the bag flat on the counter, attach the sealer, press a button and watch it go. Worked like a charm.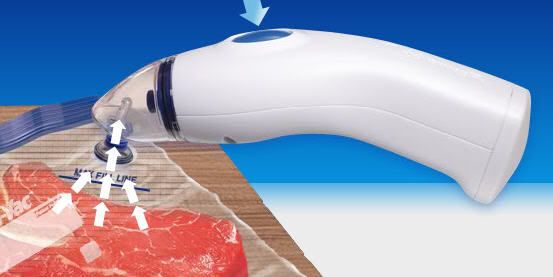 When it was time to defrost, I just left the bag in the fridge overnight and microwaved it at dinner time. You could take it directly from the freezer to the microwave but make sure you use the defrost setting under a low power.
Now all this was done under a short time period. I haven't had this system long enough to test it out long-term. It claims to eliminate freezer burn in the long run but I have yet to find that out. Overall, this is a great way to preserve food and the price can't be beat. It usually sells for $9.99 and the bags are $3.29 for 12 quart-sized bags.
And I have to say, my girls love the fact that they can enjoy my somewhat home cooked meals while I'm gone. Now that's priceless.