This giveaway is now closed. Thank you for your participation.
The winner is Grace of
Sandier Pastures
.
Congratulations!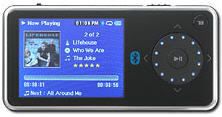 As you know, we are a household of electronic lovers - especially MP3s. I believe we have a total of 8 different types among us not including the ones on our cell phones. So you can imagine my excitement when I was offered the opportunity to review the
Insignia Pilot Video MP3 Player
from Best Buy.
Product features:
4GB* internal flash storage holds MP3 files, photos and videos
Built-in Bluetooth wireless audio lets you listen to your music with compatible Bluetooth headphones (not included)
Supports MP3, WMA, WMA Lossless, WMA DRM, WMA Pro, OGG, WAV, Audible, MPEG4 (30 fps), WMV (30 fps) and JPEG formats
2.4" high-resolution LCD color display with wide viewing angles
Built-in digital FM tuner with 20 presets; remember songs you hear by saving track and artist data from FM stations broadcasting RDS data
Features a Secure Digital card expansion slot for additional memory capacity (media not included)
Custom EQ with 4 presets
High-speed USB 2.0 interface for blazing transfer speeds
Rechargeable lithium-ion battery provides up to 25 hours of playback time
The first thing I noticed was that it has a very stylish look. Now if only I could get it out of the packaging! I swear this thing is so packed protected that I feared bodily injury when trying to free it from it's plastic. However, once that was accomplished, setting it up was a breeze. As another reviewer said, "It's so easy, even a caveman could do it." I'm not kidding! The instruction manual that came with it is only a piece of paper because that's really all that's needed.
What I really liked about this MP3 player is the FM tuner. It's kind of cool to be able to listen to the local news updates or traffic reports whenever you want to. The reception is crisp and clear and you're able to program 20 of your favorite stations.
Loading music, photos, and videos were a breeze. This player is not compatible with iTunes, however, Best Buy does have it's own Digital Music Store. If you really wanted to, you could burn a CD copy of your iTune purchases, download them to this program, and sync your player. Not a big deal.
It's pretty cool to have a video player on hand especially when grocery shopping with the kids. Anything that keeps them quiet in public for a decent amount of time is always a plus for me! And since it has a media card slot, memory is never a problem.
All in all, I love this MP3 player. And coming from an iPod diehard, that's saying a lot. For the price of $129.99, this presents an affordable option for those looking to take their music on-the-go.
Guess what? I have a brand new, never opened (I'll leave that up to you but be careful!), Insignia Pilot Video MP3 Player & Bluetooth Headphones for one lucky person to win. How cool is that? To enter, just stop by Best Buy before February 1st and see what it's all about. Then come back and let me know what feature interests you the most. That's it! A random winner will be selected and notified on February 2nd.

To earn extra entries, just subscribe to my feed and/or mention this giveaway on your site with a link back here and to Best Buy. Let me know if you're doing the extra credit so I can make sure you're entered properly. PLEASE don't forget to leave a way to contact you.

This giveaway is open to U.S. addresses only. Good luck!

Don't forget to enter my other current giveaways: