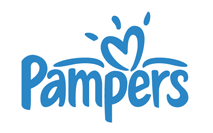 A while ago I had the opportunity to review
Pampers
Cruisers Diapers and Baby Wipes. I was thrilled to do so because who doesn't love free diapers?
Ever since Girlie Girl was born 6 years ago, I have always bought Huggies. I'm not sure why. I guess it's because it's what my sister used on her kids and I've always felt that a diaper is a diaper. Therefore, I really wasn't expecting Pampers to be any different. After all, how different can a diaper be?
At first glance, I noticed that the side tabs were a lot narrower than I'm used to. I wondered if this would result in less coverage and more leakage. It didn't. In fact, not only did stay in place, but it also made Baby Bug more flexible without leaving elastic marks on her legs (she has really chubby legs). We didn't have a single accident and that diaper can sure hold a lot! hee hee
The Cruisers come in sizes 3 - 7 and can accommodate kids up to 41 lbs plus.
As for the wipes, they were a little softer than the Huggies brand and because of this, it was a little harder for me to use when changing Baby Bug's diaper. I'm sure it was a lot more comfortable for her but it didn't slide on her butt as easily. I really liked the smell, though. It was great for wiping up the kids when they got messy.
All in all, I thought
Pampers
Diapers and Wipes were really good. It is something I would recommend to all parents.
Join their
Gifts to Grow Program
and receive free samples, valuable coupons, and a chance to win a year's supply of diapers and training pants!
Rating:
****