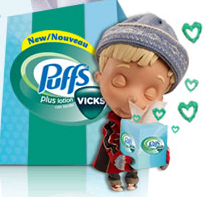 Here in Hawaii, we don't have your typical winter cold. However, that doesn't mean we don't get sick once in a while. And since it's flu season, what better time than now to review the
Puffs Plus Lotion from Vicks
.
From the site:
Puffs Plus with the Scent of Vicks combines soothing lotion with the comforting scent of Vicks. The lotion contains aloe, chamomile, and vitamin E; the scent of Vicks contains eucalyptus, menthol, and camphor. This great combination offers soothing comfort when
you need it most.


When you first smell it, you may think the scent is a little strong. However, if you're congested, you'll be thankful for the vapor action. Believe me.
A while ago I had a slight cold probably due to all the germs on the airplane. Luckily, I had this handy travel pack of 12 2-ply tissues with me. These ultra-soft, Vicks scented tissues were exactly what I needed. Not only did the vapor help clear my congestion a little but it also eased the soreness of my nose from all the blowing.
My girls, on the other hand, did not really care for it. However, what kid likes to blow their nose in the first place? For them, the Vicks Vapor Rub usually works a lot better. The warm soothing feel helps them get a good night's sleep. It was something my Mom used on me and now it's something I use on them.
Bottom line: Great product, however, probably better suited for adults than kids.