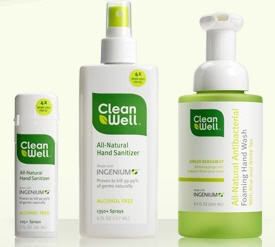 As a flight attendant, I love anti-bacterial cleansers that don't require water. After all, with 300+ passengers and only 6 lavatories on the plane, sometimes it takes a while to get in there to wash my hands. And believe me, I wash my hands constantly!
Clean Well
products are made with all-natural
Ingenium
- a patented formula proven to kill 99.99% of harmful germs that can make you sick including Samonella, resistent Staph, and Listeria. Their products come in a variety of sizes and scents so there's something for everyone.
One of the biggest pluses for me is that it doesn't require water. Sometimes when you're out and about, a sink may not be readily handy especially when I have the kids with me. It's always the case that once I get everyone settled in their boosters and high chairs, I suddenly remember that they didn't wash their hands. One squirt of Clean Well and we're all set.
The only thing I didn't really care for is the initial feel of the sanitizer. At first, it felt a little sticky no matter how much I tried to rub it in. Eventually, the feeling disappeared and my hands felt clean and soft again.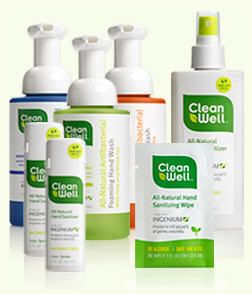 Out of the three scents - Orange Vanilla, Lavender Absolute, and Ginger Bergamot - I preferred the Orange Vanilla one. I didn't really care for the other two. But then again, that's just my personal preference.
The Starter Pack (in your choice of scents) sells for $9.99 and the Hand Hygiene Set can be purchased for $38.99.
All in all, this is a great product to help fight germs. However, I wish that it was available in more appealing (to me) scents.
If you'd like to win some of these products for yourself, check this out!
From now until February 29th, share a photo of one your messiest moments and you could win some cool Clean Well products. Stop by Shutter Sisters for all the details.
Thank you to
Clean Well
and the
Parent Bloggers Network
.