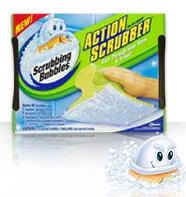 Like most people, my absolute least favorite room to clean is the bathroom. My girls share one and it always amazes me how two little ladies can be so dirty! To make matters worse, our tub has a porous finish which traps dirt into little crevices. Whoever designed that one definitely never cleaned a tub before.
A while ago, I was fortunate to be able to try out the new
Action Scrubber
by
Scubbing Bubbles
and found that it worked great. The new design allows you to attach a disposable pad onto a handheld scrubber which allows you to reach tight spaces and around corners. It got most of the dirt out of the grooves and even removed those pesky bath crayon marks off the tiles. And the comfortable handle made scrubbing easier on my hands. Once I was done, I just tossed the pad into the trash. Easy!
The Action Scrubber doesn't use any chemicals or harsh abrasives so it's safe to use around kids and it leaves your surfaces shiny and clean.
I loved that there are no messy sponges to have to dry and store for later use. However, it would be even better if the disposable pads were somehow biodegradable. All in all, it's a great product that does what it's supposed to do.
If you'd like to try it out for yourself, stop by their site and get your
$1 off coupon
!