This giveaway is now closed. Thank you for your participation.
The winners are Jen @ Be Thou Exalted, Lisa @ The Mo' Fo', Pamela@sbcglobal
,
BloominWild89, & LindaW@gmail!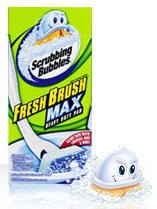 I'm sure most people would agree that cleaning the toilet is the worst job in the house. So, when I have the opportunity to test out something that could make my life easier in that area, I'm all willing!
Introducing the
Scrubbing Bubbles Fresh Brush Max Toilet Cleaning System
.
From the site: "
Our heavy duty, disposable toilet cleaning system cleans tough stains like hard water, limescale, rust and more. The scrubbing pad's tough stains formula starts working as soon as the pad touches the water. As you scrub, thousands of abrasive fibers in the pad loosen dirt and grime, so you have a clean, sparkling bowl. Once you're done cleaning, just throw the soiled pad away. There's no wet, germy brush to store.
"
The kit included a 19' handle which was really easy to put together. Just snap two pieces together and you're all set. Then slide the button on the handle to open the teeth, attach the scrubbing pad, then slide back the button until you hear it click.
The shape of the handle made cleaning the toilet really easy, even under the rim. When I was done, I just slid the button and the used pad dropped into the trash can.
The only downside was that it didn't take all the rust out. However, if I had this cleaner from the beginning, I probably wouldn't have let the rust accumulate in the first place. It's that easy to use! Also, it would be great if the pads were somehow flushable and bio-degradable - being Earth Week and all.
Now for the giveaway. I have 5 sets of the Fresh Brush Kit & 12 Pad Refills for 5 lucky winners. To enter, just leave a comment before April 28th saying which household chore is your least favorite. That's it! Five random winners will be selected and notified on April 29th. They will then have 3 days to claim their prize.
Don't forget to leave a way to contact you in case you win!
To earn extra entries, just
subscribe to my feed
and/or mention this giveaway on your blog with a link back here. Don't forget to let me know if you're doing/did the extra credit so I can make sure you're entered properly.
This giveaway is open to US addresses only. Good luck!