If there's one thing I know about, it's hair accessories. This comes from having 2 little princesses in my home who insist on dressing up on a daily basis. So when I had the opportunity to review
Maiden America
, I was thrilled!
Maiden America
specializes in no-slip barrettes as well as other hair accessories for girls. Like their name suggests, all products are made in America using high quality materials and excellent craftmanship.
For this review, I was able to actually order directly from their site to see first hand how easy it was to go through the purchasing process. The instructions were very user friendly and easy to follow along. There were so many cute pieces that I had a hard time deciding what I wanted to get. In the end, I chose the following designs: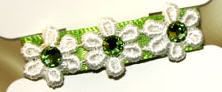 Flat Crystal Daisies (pink): This one was for Baby Bug because she has a lot of flowery Spring dresses that would go perfectly with it. The clips held her hair comfortably and securely and she looked adorable in it!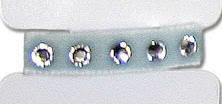 A Velvet Crystal (pink): I really liked this one for Girlie Girl because it was simple enough to wear on a daily basis with the crystals adding a little touch of sparkle. What girl doesn't like to show-off a little bling?
All in all, we were very happy with our selections, the quality of the hair accessories, and the ordering process. We would highly recommend
Maiden America
for your little girl!
Thank you to the
Parent Bloggers Network
&
Maiden America
for this great review opportunity!