Since I'm usually away on layovers during the weekend, I've been finding it a little difficult to post the daily contests & giveaways for Saturday & Sunday. After all, there's just too much shopping to do! So, what I've decided is to run the listing from Monday - Friday and use the weekends to spotlight some great (& unusual) shopping finds I come across during the week.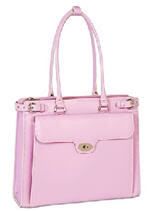 First of all, I've been looking for a non-boring laptop bag that shows a sense of style and came across
Kolobags
which specializes in all kinds of ways to carry around your precious laptop - briefcases, totes, messenger bags, backpack, wheeled, & sleeves.
My favorite is the
mcklein
(in pink of course). "Professional and sophisticated, this laptop tote is styled of Italian leather and is as organized as you. The top zip compartment provides quick access to main a section with separate file divider and a padded laptop section. A front organizer section will hold gadgets like a cell phone, business cards, and other miscellaneous items. No matter what your taste, there is a color to match: black, blue, green, red, orange, pink and white."
$159.99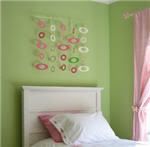 Next, I've been totally into polka dots lately and fell in love with this wall decor from
Oras Designs
. You can use them in the nursery, your child's room, or anywhere you'd like to add a little fashion statement. Personally, I would hang it in my room!
They come in lots of different colors and geometric shapes which move delicately and are always changing, casting beautiful shadows that transform with changing light. What a fresh, modern and playful take on traditional mobiles
. $148.00

Finally, remember when your parents used to do the "airplane bit" when trying to feed you? Or do you still do that with your kids? How cool would it be to use an actual
Airplane spoon
?
The Spoon Sisters
have an extensive line of products for everyone in your family but their spoons are the cutest things around. The plastic plane slips off so it's easy to clean. The spoon is stainless steel and measures 5 1/2" x 5".
$16.00


Well, that's it for now.
Have a great weekend!