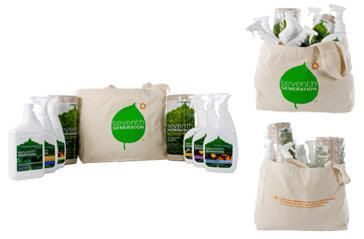 Recently, I've been introduced to a company called
Seventh Generation
whose mission is
"to becoming the world's most trusted brand of authentic, safe, and environmentally-responsible products for a healthy home."
Their products are non-toxic, recycled, and chlorine-free.
I was sent a
Home Starter Kit
which contained cleaners for Glass & Surface, Toilet Bowls, Showers, Tub & Tile, Kitchen, as well as an All-Purpose Cleaner in various scents. I even got 2 rolls of Natural Paper Towels & a Seventh Generation tote. How cool is that?
I've been able to test out each one of these products and can say that they work like a charm. Not only is my home clean but it makes me feel better knowing that I'm being responsible when it comes to the environment.
In addition, Seventh Generation has teamed up with Health Child Healthy World, the design firm IDEO, Rickshaw Bagworks and renowned architect William McDonough to develop an Eco Diaper Bag from
Wee Generation
. 100% of the profits go to the
Health Child Healthy World
which helps to protect kids from harmful environmental exposure. At $200, this may be a little bit pricey but just think about all the good your money goes towards. I think it's worth it.