This giveaway is now closed. Thank you for your participation.
The winner is bison61!
Congratulations!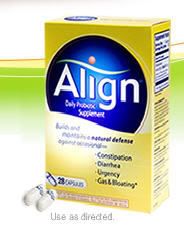 From the site:
"Align is a daily dietary supplement that works naturally to help build and maintain a healthy, balanced digestive system. Align is an easy-to-swallow capsule that you take just once a day, every day to help even out the ups and downs of common digestive upsets such as constipation, diarrhea, abdominal discomfort, urgency, gas, and bloating. Align capsules contain Bifantis, a unique probiotic strain that has been clinically proven to build and maintain a strong, healthy digestive system."


I admit that when I was first presented with this review opportunity, I had never heard of Align and wasn't sure I wanted to ingest something unfamiliar. I'm just strange like that. So I did the next best thing, I made DH take it. ;-)

Now, he wants everyone to know that he's a very regular person, if you now what I mean, and has no problem sitting on the throne a couple times a day. I kind of envy that about him. That's why he wasn't sure if Align would even benefit him but he was willing to give it a try.

Guess what? He actually liked the results. So much so that he inquired about purchasing more.

He was warned that he may feel a little bloated for the first week but it only happened on the 2nd day, and not even that bad. During the rest of the 30-day trial period, DH felt less gassy (a good thing for me), no bloating after eating, and a settled feeling in his lower abdomen. He felt it to be a great remedy for those who suffer from various digestive problems or are not able to eat as healthy as they would like. There's even a handy
chart printed on the box which helps you keep track of your daily results and overall impression of the product.

How would you like to try it for yourself (or give it to your husband)? Align is giving away a 30-day supply to one lucky winner. To enter, just mention in comments before June 9th on what digestive problem you would like to remedy. That's it! A random winner will be selected and notified on June 10th. The winner will then have 3 days to claim their prize.

To earn extra entries, just subscribe to my feed and/or mention this giveaway on your blog with a link back here and to Align. Please let me know if you're doing/did the extra credit so I can make sure you're entered properly.

This giveaway is open to US addresses only. Don't forget to leave a way to contact you in case you win! Good luck!