This giveaway is now closed. Thank you for your participation.
The winners are:
The Robinson County Post
The Narcissistic Dreamer
Doreen's Place
laura_licious (no blog)
Congratulations!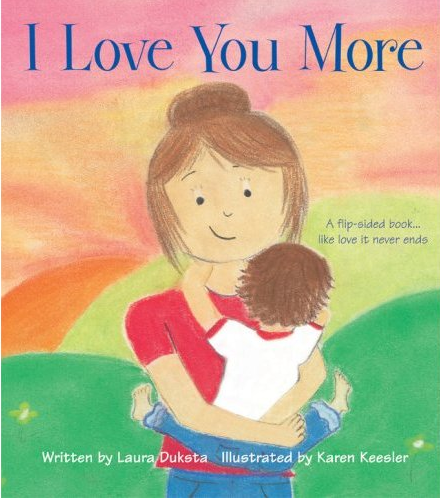 I Love You More
, a book written by
Laura Duksta
and illustrated by Karen Keesler, is a heart-warming story about a Mother and her son discussing just how much they love each other.
Book Description:
Too often love is assumed and not spoken. Love should be seen, heard, felt, sensed, shown, expressed, talked about - and more! Reading

I Love You More

will become a game, a conversation of love, that people, especially parents and children, can share for years.

Girlie Girl and I really enjoyed this book. The large font made it easier for her to read along and the simple words that were used really helped her to understand what was being said. We both love the flip story layout that starts from either side of the book and ends in the middle. It's a book that I know we'll be reading for years to come.
How would you like to add this gem to your child's library? I have 4 copies of this book available to giveaway. To enter, just leave a comment saying who you love. That's it! You have until
November 8th
to sign-up.
And if you'd like extra entries, just subscribe to my
RSS feed
or mention this giveaway on your blog. There will be more giveaways to come!
PLEASE
don't forget to leave a way to contact you in case you win!