This giveaway is now closed. Thank you for your participation.
The winner is Cory of My World, CJ!
Congratulations!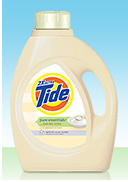 With Christmas fast approaching, I'm sure a lot of you will be entertaining guests for the holidays. Getting ready will probably include cleaning the house, shopping for groceries, and of course, doing the laundry.
To help you, Procter & Gamble has recently come out with a new line of fabric care products called Pure Essentials which includes Tide, Downy, & Bounce. These products are available in two new scents - White Lilac and Lemon Verbena.

Tide Pure Essentials includes baking soda and citrus for exceptional cleaning and stain fighting results.
Ultra Downy Pure Essentials uses two of nature's symbols of softness - aloe and chamomile - to help make your fabrics feeling soft and smelling great.
Bounce Pure Essentials controls static cling and leaves fabrics feeling soft to the touch.
The people at Procter & Gamble would like to give you a chance to win a Pure Essentials Gift Basket of your own. It includes:
50 oz. Tide Pure Essentials
44 oz. Downy Pure Essentials
70 sheet Bounce Pure Essentials
20 oz. Febreze Fabric Freshener
Wicker Basket
Bath Towel
To enter, just leave a comment below before midnight
December 10th
saying you'd like to be entered. A random winner will be selected and notified on December 11th. That's it!
As usual, you may get extra entries by subscribing to
my feed
and/or mentioning this giveaway on your blog with a link back here and to
Pure Essentials
. Please let me know if you're doing/did the extra credit so I can make sure you're entered properly.
PLEASE don't forget to leave a way to contact you if you win. Good luck!