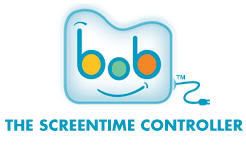 This giveaway is now closed. Thank you for your participation.
The winner is Carrie of Life is Like a Mountain Railway.
Congratulations!
"Children spend more time watching television than any other activity . . ."
The National Institute on Media and the Family


I admit it, on occasion I have been guilty of using the television as a baby sitter. I really do try to limit the time the girls spend watching the tube but sometimes I just can't help turning it on so I can tune out. So who can blame them when they start to rebel once I come to my senses and pull the plug?
According to the American Academy of Pediatrics, children's screentime should be limited to one to two hours of quality programming per day. However, young people spend an average of three hours per day watching television, 49 minutes per day playing video games and more than an hour per day using the computer for something other than schoolwork.
This is where
BOB The Screentime Controller
comes in. BOB puts an end to child-parent conflicts about screentime by setting limits to how long a child is allowed to watch television. Once that limit is reached, electronics are shut off. The great thing about this device is that you can use it on any electronic device that has a screen. And it can be programmed to monitor 6 different users.
How would you like to win BOB (value $99) for your family? To enter, just leave a comment below before January 15th mentioning how many hours you think your family watches television on a daily basis. That's it. A random winner will be selected and notified on January 16th.
As usual, you may earn extra entries by
subscribing to my feed
or by mentioning this giveaway on your blog with a link back here and to BOB The Screentime Controller. Let me know if you're doing/did the extra credit so I can make sure you're entered properly. Don't forget to leave a way to contact you in case you win!
This giveaway is open to US & Canada only. Good luck!