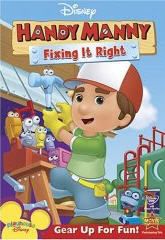 This giveaway is now closed. Thank you for your participation.
The winner is Andrea of Andrea's Blog.
Congratulations!
Handy Manny is back with a brand new DVD - Fixing It Right.
Product Description: Hop up and jump into fun with Handy Manny and his loyal, lovable talking tools. Working together, they'll get the job done right before you can say, "Gracias, mi amigo!"
Cheer on Manny and his tools as Rusty heroically overcomes his fear of heights to lead the team, repair a jungle gym and make a grateful new friend. Pat surprises everyone, including himself, when he's the one who finds a clever solution to a really big problem. And Dusty solves that oh-too-familiar mystery - "Where do socks go?" - when a clothes dryer seems to be "eating" them. Join Manny and his gregarious gang of can-do helpers and you'll discover how cooperation and creative thinking make
Fixing It Righ
t fantastic fun for everyone!
This DVD is scheduled to be released later this month but you can win a copy right here! To enter, just mention who the fix-it person is in your family before February 19th. That's it! A random winner will be selected on February 20th.
For extra entries, you may
subscribe to my feed
and/or mention this giveaway on your blog with a link back here. Don't forget to let me know if you're doing the extra credit so I can make sure you're entered properly. PLEASE leave a way to contact you if you win.
This giveaway is open to everyone world-wide. Good luck!