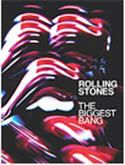 Who doesn't love the Rolling Stones? They're the classic rock band. So when I was approached to do a review on their latest DVD release, I was thrilled!
This amazing DVD set includes seven hours of concert footage, including two full-length concerts—one filmed in Austin, Texas, and one filmed in Rio de Janeiro, Brazil—with performances of such Stones classics as "Satisfaction" and "Sympathy For the Devil."
It also contains two behind-the-scenes documentaries and rare performances such as duets with Eddie Vedder and Bonnie Raitt, as well as previously unreleased tracks "Get Up, Stand Up" and "Mr. Pitiful" from a 2005 Toronto performance.
What I really enjoyed about this DVD set is the opportunity to view the emotional roller coaster associated with a world tour and real-life everyday practices of these musical legends.
What a great Father's Day gift idea for all those Rolling Stones fans out there! This 4-DVD set goes on sale today exclusively at all Best Buy locations including their online website for only $29.99.
Hurry, Father's Day will be here before you know it!