This giveaway is now closed. Thank you for your participation.
The winners are
Doreen's Place
&
Shama-lama Mama
!
Congratulations!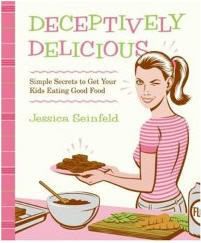 If you haven't already heard about this book, you've probably been out of the country or experiencing power blackout because
Deceptively Delicious
is the talk of the town.
Not only is it written by Jessica Seinfield (wife of Jerry) but it's already received many celebrity endorsements, include the Big O herself. When Jessica appeared on the Oprah show, she impressed the talk show host enough to receive her highly coveted approval.
The whole premise of this book is to get kids to eat healthily, by "hiding" pureed vegetables and fruits in everyday foods that your kids eat. When you think about it, the concept is quite simple. I just wonder why I never thought about it. She even puts spinach and carrots in her brownies! Now that's just darn right sneaky!
What I really liked about this book is all the colorful photos of the finished products. For me, I need to have a visual when deciding what to make. I don't know why, I just feel more motivated if I know what it looks like. There are also many helpful parenting tips printed throughout this book. Those alone would make this a great buy!
The downside is that I tend to make things on the spur of the moment. By looking at some of these recipes, I think I would have to plan in advance to make sure I had all the tools and ingredients in my kitchen.
All in all, I think this book lives up to it's hype. It's organized and well written. And let's face it, anything that gets my kids to eat more vegetables is well worth it's weight in gold.
Would you like a copy of Deceptively Delicious for yourself? Just leave a comment below saying which fruit or vegetable your kids absolutely despise before

October 19th

. I'll select 2 random winners on the 20th.
For extra entries:

Post this giveaway on your blog with a link back.

Will ship world-wide . . . even to Dubai!

Even if you don't win, you can still view some of this book's recipes at the
Oprah website
. Thank you to
Parent Bloggers Network
for this review opportunity!