This giveaway is now closed. Thank you for your participation.
The winner is Samsakara. Congratulations!
Tera's Dawn
, written by Susan K. Schank, is about a young mare who loves to run free among the countryside. Then one day, she gets caught by ranchers and trained to be a plow horse on their farm. Her misery eventually turns to happiness when she makes an amazing discovery!
Even though Girlie Girl isn't a big fan of horses, she loved the way Tera overcame adversity and found her wish eventually coming true. A great book that your entire family will love.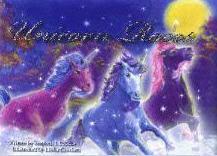 If you have a child who loves fantasies, this is the perfect picturebook! In
Unicorn Races
, written by Stephen J. Brooks, every night after going to bed a young girl enters the imaginary world of unicorns among the stars. Riding as a princess on the back of a unicorn, she oversees amazing races past the moon, stars, and other exciting sights.
The best part of this book is the beautiful water-color pictures that makes you feel like you're right there in the action. Definitely one of the best books we've read in a long time!
How would you like to win both of these books for your family's library? Oh, and did I mention that they're both signed by the authors? Cool, huh? To enter, just stop by
Purple Sky Publishing
before midnight, May 5th and check out their other wonderful children's books. Then come back here and mention one that you find interesting. That's it! A random winner will be selected and notified on May 6th. The winner will then have 3 days to claim their prize.
You may earn extra entries by doing one or all of the following for a total of 3 extra entries:
Please let me know if you're doing/did the extra credit so I can make sure you're entered properly.
Don't forget to leave a way to contact you in case you win! This giveaway is open to everyone world-wide. Good luck!